Saturday, April 26, 2008
Morels Arrive!
The phone rang at 6:30 a.m. yesterday, long before I had intended to greet the new day. But Sam Consylman was preparing to go out mushroom foraging and didn't want to wait to relay his news.
The morels have popped in Lancaster County, reported Sam, forager extraordinaire. Not very large, but plentiful enough to pick in the local wood. Earl Livengood would sell what Sam picked the next day at the Reading Terminal Market.
I made sure to set my alarm for the following day (today, Saturday) so I'd be among the first to examine this year's crop. Another fungi lover (who had not received Sam's call) spotted them on her early tour of the market and was starting to pick through the fruiting bodies when I arrived to snap this pic and select some for my own consumption. (She Who Must Be Obeyed avoids all fungi and other "ook".) My fellow urban forager said she had to be sure to set aside some for herself, because her 16-year-old son devours mushrooms of all types. We agreed that even the humble white button mushroom can be cooked superbly (she suggested a Russian dish, sautéed then mixed with sour cream), but that morels were, to use that overused term, "special".
My two-and-a-half-ounce selection of morels (Sam picked black, common and red morels, though I'm told the "red" isn't a true morel but is close enough for culinary purposes) set me back $12.75, based on the $85/pound price. (Last year they were $80). Earl Livengood asked me if he had priced them correct. Alas, he had. Morels imported all the way from the Pacific Northwest, which arrive slightly dry though still quite useable, were selling over at Iovine Brothers Produce for $60, so Earl's price, though considerably higher, wasn't out of line considering the quality and freshness.
By the time I left the market at 10:30, Earl's stock of morels had been depleted by at least 50 percent. I would suspect that they would be totally gone by noontime or shortly thereafter. It's possible Sam will still be picking them next week, but don't count on it. The morel season lasts a nanosecond. They'll be my lunch today, sautéed with shallot, then turned into a cream sauce over toast points. Sautéed morels also work exceedingly well with soft scrambled eggs, or just about any other egg dish. One dish I particularly enjoyed a few years ago was a sauté of morels and asparagus tips surrounded by a ring of savory custard (at L'Étoile in Madison, Wisconsin).
Another sign of spring could be found at Iovine's: ramps. These wonderful examples of a wild allium were fresh, with nearly pristine leaves, were selling for $3.99/bunch. Ramps should be available through much of May. I'll be cooking these pungent wild leeks (both bulbs and greens) with potatoes sautéed in bacon fat to go along with reheated brisket for dinner this evening.
Jim Iovine reports he'll be directly sourcing some of his leafy vegetables this season from a South Jersey grower. This includes scallions, spinach, all varieties of cooking greens, lettuces, as well as radishes and other veggies. He and brother Vin will also continue their contract with Shadybrook, which serves as the vendor's main supplier of local corn in season. Jim said he hopes for another great crop of raspberries this year again from Shadybrook as well.
Fair Food Farmstand briefly featured another veggie foraged in springtime: fiddlehead ferns. They received a 10-pound case earlier this week from a local gatherer, but it sold out the same day. They expect to have them again next week, so, buy early. I know I will. (Try them in Chinese stir-fry dishes where you'd normally add string beans or asparagus for veggie crunch.)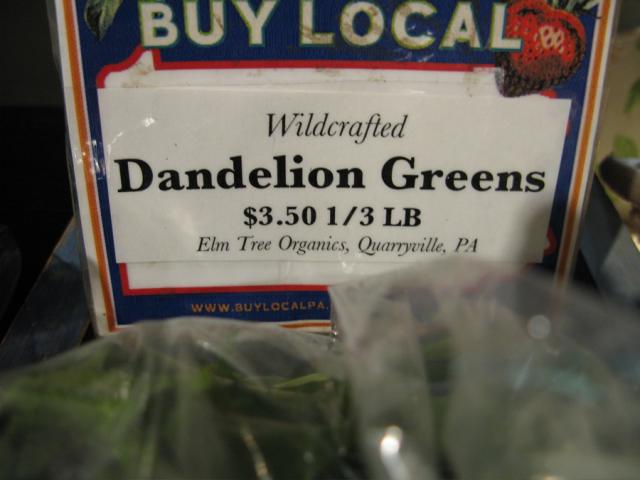 Another foraged food you'll see this year (at both Earl
Livengood's and Fair Food Farmstand) is wild dandelion. But I wonder just who "crafted" the wild dandelion greens at Fair Food. The label writer should teach a class in writing oxymorons.
Plentiful sardines still available, at least at John Yi's. Whole sardines (herring) were selling for $3.99 again today. We're still a few weeks away from fresh Alaskan salmon.
For Passover, Flying Monkey had some delicious macaroons, a buck apiece for the large cookies. Lots better than the Manischiewicz version that comes in the equivalent of a coffee can.
Lease negotiations are complete for Jonathan Best, which will operate a high-end grocery in the space formerly occupied by Margerum's and, later, the Natural Foods Connection. All that's left is signing on the dotted line, after which the space will be spruced up and altered before the store opens. RTM General Manager is anxious to place a "tenant obtained" sign over the long-vacant space.
Another problematic space at the market is the stall behind L. Halteman, currently used as exhibit space. Halteman's expansion into that space will be part of their lease renegotiations.
Friday, April 25, 2008
Talula's Table & Other Headhouse News
Talula's Table will among the vendors at the Sunday Headhouse Square market this season. They brought their sausages to the West Chester farmers' market last year and decided to further expand for 2008. The Kennett Square characuterie and market does merguez (lamb sausage), game sausage, parma, salamis and other cured meats, along with dips and mustards.
The Food Trust's Nicky Uy reports these other updates:
Birchrun Hills Dairy and Farm will bring fresh milk from grass fed cows starting in June and veal from humanely raised bull calves.

Tom Sereduk plans to sell five times the volume of last year with 30 different varieties of flowers.
Busy Bee Farm will sell raw and low temperature infused honeys, various types of fresh and dried lavender and a plethora of herb.
It's hard to think about maple syrup in warmer weather, but why not? Spring Hill Farm from Lackawanna will have it.
Another new vendor will be Happy Cat Organics, Berks County, with heirloom vegetables and sells dozens of varieties of heirloom fruit and vegetable seeds.
African greens grown from seeds that come directly from Sierra Leone will be featured by Yoder Heirlooms of Lancaster County, along with other pesticide-free heirloom produce.
The Rodale Institute has its own CSA offering organic produce through its Quiet Creek Farm. They are branching out to farmers' markets this year, including Headhouse.

Farmers' Market Schedule update
The Food Trust still hasn't posted its schedule, but there is one, sent to me by Nicky Uy, project manager. I've created an web version and you can find it
here

.
Wednesday, April 23, 2008
New Farmers Markets This Season
There will be new markets this season at City Hall and near Jefferson Hospital, sponsored by Farm to City.
FTC's Bob Pierson says he's lined up three "definite" vendors as of earlier this week for City Hall: Fruitwood Orchards (a South Jersey berry, tree fruit, garden vegetable producer), Pumpkin Ridge (cut flowers), and Better Together Bakery (from Havertown). Possible additions include an aquaculturist who grows clams and sea lettuce, a seller of canned/jarred goods (with some fresh veggies), and two youth organizations who are involved in urban gardening. Pierson said that the City Hall market likely wouldn't be much bigger, since space in the venue, the northeast quadrant of the courtyard, is limited.
Full details of the Farm to City markets, including schedules, can be found at
FTC's Farmers Market page
, but here are some dates worth noting:
South & Passyunk Market opens May 6, with vendors to include the Livengoods and the Rineers, among others.


The City Hall market opens Wednesday, May 14. No time established yet.


Jefferson, Chestnut near 10th, will be held Thursdays from 12 noon to 5:30 p.m., beginning May 22. No vendor lineup yet.

The other major sponsor of area farmers markets,
The Food Trust
, hasn't posted its schedule yet, except for the hugely successful Headhouse Square venue, which begins its Sunday run May 4. (A reader of this blog, "Sam", contributed a copy of The Food Trust schedule received by email. You can find the schedule, as reported by Sam,
here.
)
Anyone besides me ever wonder why we've got two separate organizations sponsoring farmers' markets? I don't have all the answers (I wouldn't be surprised if policy/politics and ego had something to do with it), but Farm To City and The Food Trust are coming at it from different angles, though from the consumer's practical point of view it hardly matter. Farm To City is more interested in promoting the economic well-being of small, family farmers and to help preserve vanishing countryside. The Food Trust's goal is to insure that everyone has access to affordable, nutritious food. Now you know.
Monday, April 21, 2008
Asparagus Arrives
Local asparagus made its debut last week at Earl Livengood's, Fair Food Farmstand, and Kauffman's Lancaster County Produce, with prices ranging from $2.25 to $5.99/pound (though it's usually priced by the bunch; I figured the range by weighing some bunches, which usually clocked in at about a pound.
Iovine Brother's Produce carried ramps last week at $3.99/bunch, but by Saturday only a handful were left and their condition had deteriorated a bit (still usable, but the greens were a tad ragged). Go for them when they first get it. Vinnie Iovine complained he couldn't get root parsley, which sometimes appears on seder plates in the
karpas
role. South American pears are still plentiful, with Bartletts priced at 50-cents/pound, Anjou's at 99 cents.
John Yi offered both organic and wild Alaskan king (chinook) salmon. The organic is farm-raised and was priced at $15.99; the wild (probably frozen since there's only limited trolling permitted in southeast Alaska until the main season begins about mid-May) sold for $20.
Sundays at the RTM largely seem to be a tourist/conventioneer affair, at least based on my visit yesterday, my first in months. Iovine's, though reasonably busy, seemed to have only two-thirds or less the staff they do on Saturdays. Other purveyors appeared to be operating with reduced staffs, too. Bassett's, however, could have used a few more scoopers!
Saturday, April 12, 2008
The Season Inexorably Proceeds
Another sure sign of warmer weather (as if we needed confirmation of what the thermometer says): soft shell crabs. John Yi had them today, at $6 apiece (or two for $10).
As promised in its weekly email, wild garlic could be had at Fair Food Farmstand. Over at Benuel Kauffman's Lancaster County Produce, local greenhouse tomatoes have appeared. Missing in action today, for the second or third Saturday in a row, was Earl Livengood. Apparently, nothing to sell yet other than stores of root vegetables from the fall, though I would imagine his spinach should be ready. We're still a while away from asparagus.
Today I picked up a deli treat I've neglected since Siegfried pulled up stakes: leberkase, the German style veal loaf. I ordered half a pound of the onion-inflected version from Dutch Country Meats and enjoyed some for lunch on rye bread from Le Bus.
I'm looking for some pork belly to braise this week, but it won't be from the RTM. Dutch Country Meats only has the salt pork version. I did spy some unsalted belly from Meadow Run Farm in the frozen case at Fair Food, but found the price (about $8/pound) exorbitant. Yes, I know it's expensive for small scale farmers to raise quality pork, but this was simply too much. You can buy quality apple smoked bacon (which, after all, is pork belly) for less -- and the bacon loses water weight, so it should be even more dear. I think I'll get some pork belly at one of the Chinese supermarkets instead.
Over at Iovine Brothers Produce, the price of some citrus fruits is easing. Limes now three for a buck, lemons four. A three-pound bag of end-of-the-season clementines was $3.99. Small navel oranges were selling for 5/$1, medium ones at 4/$1. Peruvian mangoes looked to be one of the better fruit deals, two for $1. They also had those not-so-bad-for-coming-from-so-far-away Bartlett pears from Argentina (I failed to note the price, but in recent weeks they've been priced at 99-cents to $1.49/pound). Red and green peppers from Mexican greenhouses 89-cents, orange varieties 99-cents.
If the rain stays away (it was thundering when I began writing this missive, but now the sun is peeking through) it will be grill time again for dinner. Over at Giunta's Prime Shop I picked up a hanger steak (total of about 1.25 pounds, priced at $6.99/pound) and a small whole Eberly's organic chicken (sorry, don't recall weight, but cost was less than $4). They'll both on the grill, with the quartered chicken to be consumed tomorrow.
Friendly reminder
We're only three weeks away from the opening of the Sunday Headhouse Farmers Market. (Thanks for reminding me, Moriah.)
Sunday, April 06, 2008
RTM May Get Grocer Again
The new occupant of what was formerly Margerum's and, more recently, The Natural Connection, likely will be Dave Schreiber, owner of Jonathan's Best in Chestnut Hill. As of last week no lease agreement was signed, but the only remaining details to be worked out were some product offering specifics. Although everyone's optimistic, that could be a deal-breaker.
Jonathan Best has been around for about a quarter of a century, selling groceries and "gourmet" products. It's the only seven-day operation at the Chestnut Hill Farmers Market.
Bringing Jonathan Best to the RTM would restore the presence of a grocer in the market, something both management and merchants (even the sandwich vendors) want. Having a grocer with dry and canned goods and other staples means food shoppers don't have to make a separate trip to a supermarket to pick up the one or two extra items they may need for a recipe.
The problem for the grocer is that it's a low-margin business. So Schreiber is looking to add other items for sale which will allow him to earn a reasonable profit; canned goods and packaged grains just don't do it.
That's where the negotiating over product lines becomes complicated. Where Schreiber sells sandwiches at Chestnut Hill, that would be a no-no for a grocer at the RTM. It's hard to avoid overlapping product lines with other merchants entirely. This past winter, when Dutch Country Farms' expanded to baked goods, it caused consternation to an Amish section merchant selling baked goods, resulting in DCM having to pull the line of products from the Northeast's Haegerle's Bakery. Jonathan Best started out as a cheesemonger in Chestnut Hill, but the RTM already has two full-fledged cheesemongers and others who also sell cheese. Just about any higher-margin grocery item Jonathan Best could carry is also sold by another RTM merchant. So RTM management is faced with a delicate task: trying to limit significant competition with other merchants while providing Schreiber with the higher-margin products he needs to sell to be profitable.
At least one veteran merchant suggests lottery tickets might be the answer.
* * *

'Green' Cleaning Supplies at RTM
Household cleaning supplies -- all-purpose cleaners, glass cleaners, dish and hand soaps -- have been added by The Cookbook Stall.